Motion Computing
Motion Computing has been a major name in Tablet PCs since the beginning of Microsoft Windows XP Tablet Edition in 2001.
Motion Computing has always stuck to what it is good at: Slate Tablet PCs.
Slate Tablet PC's are perfect for mobile workers who are walking or standing while they are working entering data on the move.
This focus on Slate Tablet PCs has resulted in 4 market leading products:
All of the Motion Computing Tablets now offer the following important and innovative features:
Market leading Hydis AFFS+ "View Anywhere" outdoor and indoor displays
IP Rated and MIL810F drop tested rugged designs
Fast charging battery technology - Motion Computing Batteries charge in around half of their runtime - e.g. 3 hour battery time, 1.5 hour charge
Telstra Certified Next G Mobile Broadband
Fastest Available Intel Core Series and Atom Processors
Motion Computing Fully Supports Windows 7
Motion Computing offers Windows 7 on its full range or Tablet PCs for superior handwriting recognition and mobility.
According to the Motion computing website: "Motion designs tablet PCs for the way people work. Its customers experience tangible, measurable advances in productivity, without compromising their work styles to accommodate a machine."
Motion Computing Tablet PCs are highly recommended for business users who demand the best available technology.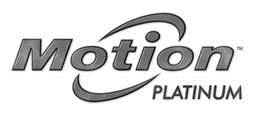 Tablet PC has been awarded Motion Computing Platinum Partner Status in Australia - the highest available - in recognition of providing a premium customer experience for Motion Tablet PC Customers; acheiving the highest Motion Tablet PC sales in Australia year after year; and our commitment to business grade Tablet PC Solutions for mobility, which include hardware, software, training and connnectivity.
---
Want to know more?
If you'd like pricing information or you have any enquiries about the please
call 1300 110 101
.
Alternatively, fill in this form and
we'll get back to you the same business day.
* Required fields. Your
privacy
is assured.
Tablet PC demonstrate, deliver and support Tablet PCs all over Australia!