Home > Wacom Pen Displays
Wacom Pen Displays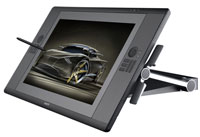 Wacom Pen Displays allow you to turn your regular Notebook, Laptop or Desktop PC into an large Tablet PC.
Wacom are the makers of the advanced Active Digitizer technology that is found in the best Tablet PCs from Fujitsu, Motion Computing, HP, Lenovo and others.
If you want to take advantage of the natural user interface that a Tablet PC can offer, but you need a larger format then the Wacom Cintiq and Interactive Pen Display range are for designed you.
Wacom Pen Displays give you access to the inbuilt Tablet PC functions of Windows 7 like the Tablet PC input panel, handwriting recognition and pen flicks. They also:
Use proximity and pressure sensitive electromagnetic digitizer technology
Feature up to 1080p high definition and sizes from 12" - 24"
Plug into your PC via VGA or DVI ports
Offer you precise and accurate cursor control like no other input device
Wacom pen displays are perfect for applications like:
Drafting, planning and estimating
Interactive lecture theatres – you can build these into lecture theatre podiums enabling truly interactive
PowerPoint presentations
Meeting and board room note taking
Graphic, industrial, fashion and architectural design
Mapping and GIS
Document mark up and editing
The hardened glass surface is designed for durability and the pens are cordless and battery-free for complete simplicity. The full range of Wacom Pen Displays are available to purchase online in the Tablet PC Store.

Contact us today for a demonstration on 1300 110 101 or fill in the form below.
* Required fields. Your privacy is assured.


---
Want to know more?
If you'd like pricing information or you have any enquiries about the please
call 1300 110 101
.
Alternatively, fill in this form and
we'll get back to you the same business day.
* Required fields. Your
privacy
is assured.
Tablet PC demonstrate, deliver and support Tablet PCs all over Australia!