Unfortunately the Wacom Bamboo Stylus Feel Pens have been discontinued. May we suggest a compatible alternative pen such as:
These pens are compatible with the same tablets as the Wacom Bamboo Stylus Feel Pens.
Wacom Bamboo Stylus Feel Carbon - a precision note-taking pen by Wacom for your Tablet PC or Smartphone
Bamboo Stylus feel comes in black or white or carbon to be the perfect match for your mobile phone or tablet. It allows pressure sensitive pen like writing experience on your feel enabled screen while being a stylish input device. Designed to be properly balanced in your hand this product gives you the precision that fingers on standard touch surfaces simply cannot provide.
Carbon fibre is extremely rugged while being stylish and modern to perfectly match the classy design of the sleek Bamboo Stylus feel. The use of carbon fibre makes it light weight and strong whilst
retaining its perfect balance. It perfectly matches most products currently on the market and provides a pen like writing experience on feel enabled screens. Writing and drawing with this stylus is at the top of the class, and the perfect match to capture valuable thoughts.
To make the experience even better, the user can choose between a soft rubberised tip for an authentic writing experience, or a standard slightly more solid nib.

The feel range of Wacom Bamboo Stylus pens feature advanced, active technology that work with a special sensor built into a number of leading mobile devices. This combination of active pen and fine sensor technologies provides the highest quality, most precise note taking experience.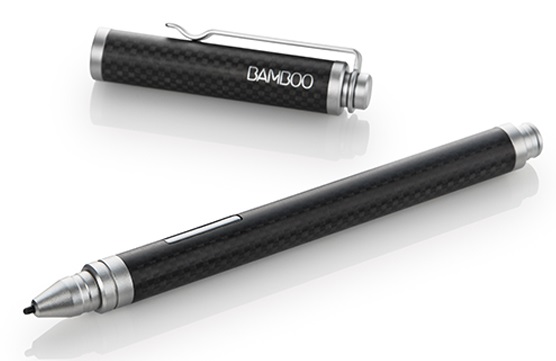 Tablet PCs tested to be compatible with Wacom Bamboo Stylus feel include:
Microsoft Surface Pro
Fujitsu LIFEBOOK® T732 (and T731, T7301 and prior models)
Fujitsu LIFEBOOK® T902 (and T901, T900 and prior models)
Samsung ATIV Tab 7 and Samsung ATIV Tab 5 (formerly known as Samsung ATIV Smart PC)
Samsung Series 7 Slate
Samsung Galaxy Note (All versions, Note, Note II, Note 10.1, Note 8)
Lenovo ThinkPad X220t (and all X Series Tablets)
Lenovo ThinkPad Tablet 2
Lenovo ThinkPad Helix
Motion Computing F5v (and F5, C5, F5v, C5v, C5t)
Motion Computing J3600 (and J3500, J3400, LE1700 and prior models)
HP EliteBook 2760P (and 2710P, 2730P, 2740P)
ASUS® Eee Slate B121 and EP121
Dell LatitudeTM 10
Wacom Interactive Pen Display (specific models)
If you tablet is not in this list contact us to find out if it is compatible with the Wacom Bamboo Stylus Feel.