The rugged Toughpad tablet heralds a fearless new way to get the job done!
The Toughpad is so durable it makes all the other tablets look like toys. This rugged Android™ tablet also boasts a number of unique security, functionality and reliability features – including a heat-treated hardened glass display designed to resist high impacts and chip-embedded security to foil hackers. The Toughpad's rugged body and convenient tablet form makes it perfect for a range of Australian field workers and business users who require access anywhere, at any time.
Works harder even in extreme conditions
Featuring a robust, fully- rugged design that can withstand 1.2 metre drops and is sealed against dust and water spills, the Toughpad is more durable than conventional consumer-grade tablets currently on the market. So many other tablets used in the workplace are prone to operational failure (which can cause thousands of dollars in downtime and repair*) but Panasonic have taken the approach of creating a device that lasts the distance, minimising downtime, support and reducing inefficiency costs.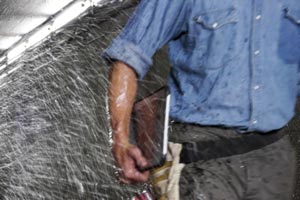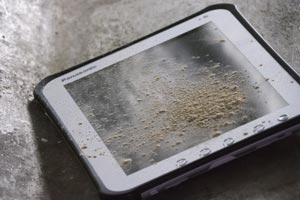 Purpose built for real-world mobility
An anti-glare low-reflection screen and high brightness LCD which can be viewed in even harsh lighting conditions means that mobile workers in markets like supply chain logistics, utilities and the military, can easily see critical data and operate the device regardless of lighting conditions. What's more, the high-precision multi-touch screen and stylus can be used to accurately capture information such as signatures or detailed drawings.
Keep sensitive data secure with a dedicated security core
Mobile computing requires an enhanced level of device security that has not been available in today's tablet market. To address this need, the Toughpad has been designed with security in mind. It incorporates security embedded at the hardware level to protect against hacking and the loss of sensitive and confidential information.
Satellite-based GPS and optional embedded 3G mobile broadband
Combined with mobile 3G broadband connectivity, the Android™-based Toughpad tablet will offer quick access to applications and data that could significantly improve your ability to make critical decisions that enhance customer service, improve response times and deliver results.
Long-life battery designed to operate for around 10 hours
Other features include integrated cameras, a serviceable battery, multiple options for peripheral connectivity and battery life that will accommodate a full day of work.