Bluebeam Revu makes your drawings, plans and documents work smarter! It is one of the key tools that can take your whole organisation paperless.
Revu delivers award-winning PDF creation, editing, markup and collaboration technology for your design and construction workflows.
CREATE
Convert an unlimited number of Microsoft® Office documents and
CAD drawings into high-quality 2D or 3D PDFs, or transform scanned
images into text-searchable documents.
MARK UP
Customisable, easy-to-use markup tools simplify communication across teams, and the powerful Markups List tracks annotations and generates reports.
COLLABORATE
Connect and collaborate with project partners worldwide in real time, or any time, with Studio Projects and Studio Sessions.
Bluebeam Studio
Revu comes with powerful document management and real-time collaboration features. Studio Projects give you a single centralised location to store documents – even entire building projects – in the cloud. And Studio Sessions let project teams review, mark up, modify and update the same files at the same time. So partners worldwide can instantly connect on the same set of documents.
ORGANISE
Make large drawing sets more manageable by creating smart documents that can be shared easily with project partners—in the office or in the field.
Bluebeam Revu for Windows® is offered in three editions: Standard, CAD and eXtreme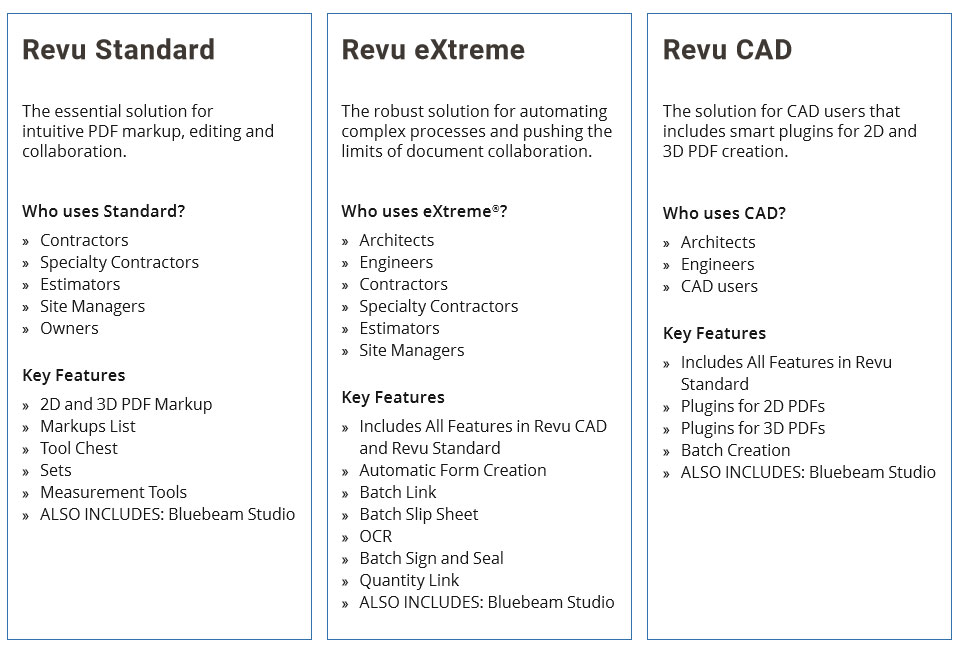 Full details of all features are listed on this
Comparison Chart

.
Not sure which version to buy? Use the
Bluebeam Revu Selector Tool
or
call us
and ask.
Perpetual Licensing
Once you purchase Bluebeam Revu with Perpetual Licensing, it's yours forever!
Maintenance
Maintenance is available at the time of purchase and is renewable annually. Includes one year of free upgrades to Revu and direct phone support from Bluebeam.
Have a question about Bluebeam Revu? Call 1300 110 101 and speak to Heath, Kylie or Mel or email us at info@tabletpc.com.au.