Windows 8.1 will completely change the way you think about tablets. No longer are lightweight mobile tablets just Angry Birds playthings (though you can play Angry Birds on your Windows 8 tablet too).
Thanks to Windows 8, tablets are now more than ever enterprise ready, content creation and work tools.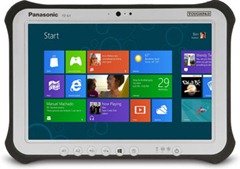 200,000+ Windows 8.1 tablet apps - 30,000,000+ apps for the desktop!
Windows 8 couples the power of a full PC operating system with a touch friendly modern operating system. There's a whole new world of Windows 8 apps in the Windows store designed specifically for tablets like the ones in our Windows 8 tablet store.
Best of all, your existing laptop software works on your Windows 8 tablet too! Excel, Word, Photoshop, Firefox, Chrome, Bluebeam PDF Revu, Powerpoint, Outlook… the list goes on.
Forget about having a laptop and a tablet! Windows 8 makes your life simple by combining your most important work devices into one mobile, easy to use package.
The latest lightweight but powerful slate, hybrid and convertible Windows 8 tablet designs are truly revolutionary. Windows 8 tablets will make an untethered mobile office a reality for you.
Windows 8.1 + Tablet = The power of the windows desktop - easier than ever on a Windows 8 tablet - combined with the new Windows UI for the ultimate notebook replacement power tool!
Find our about our Windows 8 tablets below and buy Windows 8 tablets online now. Tablet PC also offers training courses on Windows 8 to make sure you know how to use it to it's full potential!