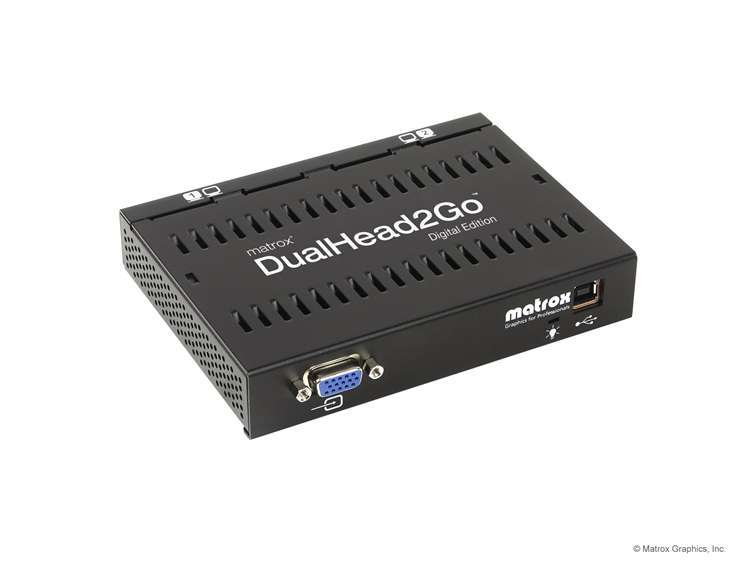 See More. Do More.

Matrox DualHead2Go is an external multi-monitor upgrade that adds up to two external monitors to your Tablet PC. Ideal for business and professional users looking to increase their productivity with a dual monitor setup, this small box lets you run different applications on each monitor or view one application across two monitors. DualHead2Go is available in DisplayPort, Digital, or Analog Editions.

This is the Digital Edition.

Features:

* Upgrade your Tablet PC, Notebook or Desktop to run external Dual Displays
* Stretch your video output across 2 Displays at up to 3840 x 1200 (2 x 1920 x 1200) resolution!
* Offers 1 x VGA Input and 2 x DVI Output
* PC and Mac Compatible
* Quick and easy to install; there's no need to open the computer case or insert components
* 2 Year Warranty

Benefits:
* A two monitor setup lets you organize your workspace more efficiently
* Multi-task more comfortably and make fewer errors
* Open a different application on each monitor or stretch one application across two monitors
* External device that won't void your system warranty

System Compatibility
Matrox GXMs (Graphics eXpansion Modules) will only interoperate with systems listed in the compatibility list. For the product warranty to be in effect, it is required that the Matrox GXM System Compatibility Tool be run to validate your system compatibility prior to purchase.
Download and run the Matrox GXM System Compatibility Tool now.

If you are unsure whether your Tablet PC will be compatible with this Matrox Graphics Expansion Module, please call Tablet PC on 1300 110 101 and we will be happy to advise you.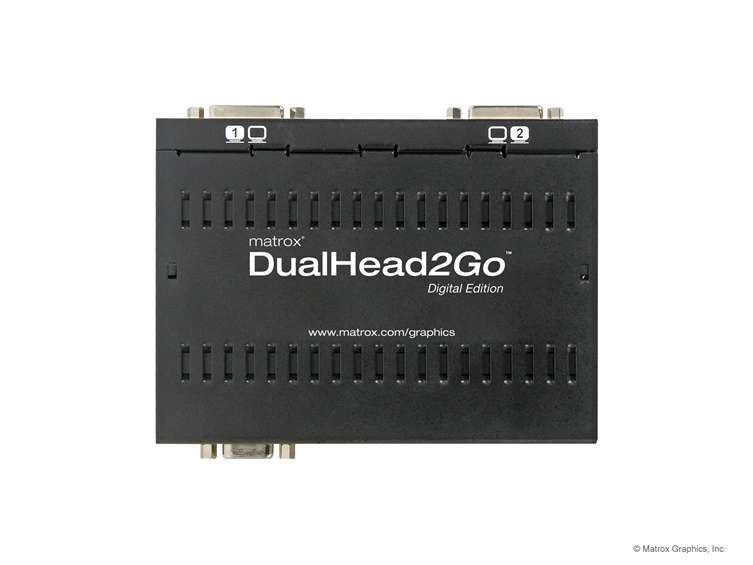 Business Productivity with Tablet PC and Matrox Graphics Expansion Modules
Working with more than one monitor allows you to see more, do more, and be more productive. Use the extra screen space to spread applications across your desktop, much like you would spread printed documents across your desk. For specialized applications, such as financial services or day trading programs, viewing data across multiple monitors provides the ability to see critical information at all times for quick decision making and streamlined workflow.
Fit more data on your desktop
Organize your applications and information as you wish
Easily multi-task without the need to toggle between applications
Compare documents side-by-side
Have all the benefits of a multi-monitor desktop/notebook computer with the functional advantages of a Tablet PC!