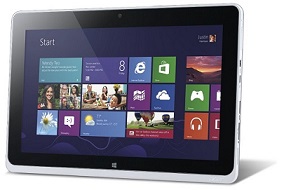 Acer Iconia W700P Windows 8 Tablet PC
The brand new Acer Iconia W700P delivers 3rd Generation Intel i5 Performance, exactly the same as much more expensive Tablet PC models from other manufacturers, in a 11.6 inch slate form factor at an affordable price.
The Acer Iconia W700P symbolises the next generation of thinner, lighter, and faster Tablet PC computing devices certified for use on Windows 8, that includes the keyboard and touchpad input methods you are used to using on a notebook computer, but also enables you to experience another dimension with 10 point multi-touch!
Do everything with the Acer Iconia W700P and Windows® 8
Yes, the Acer Iconia W700P runs any Windows program. Yes, it can also connect to your existing devices such as USB memory sticks, hard drives, memory card readers, printers, keyboards, mice, keyboard, serial port adapters, bar code scanners and anything else that you can imagine.
Windows 8 Pro delivers everything you were used to with Windows 7, but enables a more personalised and professional experience with better security, faster boot times and better battery llife.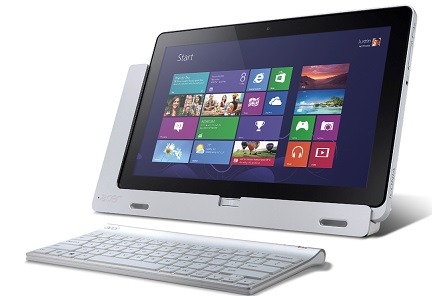 3rd generation Intel® Core™ i5 processor* with SSD
The Intel Core i5 Processor in the Acer Iconia W700P can quickly switch between multiple open applications thanks to Intel's intelligent Turbo Boost technology. Unlike other consumer tablets and pads, the Acer Iconia W700P is a true high speed multi-tasking device.
The third generation Intel Core series processor enables the Acer Iconia W700P to achieve even better battery run times (up to 9 hours of continuous usage) and extremely long standby times.
Your choice - Tablet PC or Desktop PC or both!
With the Bundled Desktop Cradle, you can use this Tablet PC in different ways to suit your workflow - either sitting down or walking around. It's powerful enough to replace a desktop computer! Take it with you and then dock it to recharge when you need to.
This version of the Acer Iconia W700P includes:
3rd Generation Intel Core i5 (Ivybridge) Processor -1.70Ghz with 3Mb Cache
Windows 8 (64 Bit) OS
11.6" High Definition Display @ 1920 x 1080 with 10 Point Capacitive Multi-Touch
Optical Finger Navigation, with Integrated Windows 8 Start button
4GB DDR3 1600Mhz
128GB SSD
Next Generation Intel HD 4000 Graphics
Up to 9 hours Battery Life
720p Front Webcam and 1080p Rear Documentation Camera
Intel Wireless b/g/n, Bluetooth 4.0
1 x USB 3.0, Micro HDMI, Headphone Out, Mic-In, Micro SD, HD Audio
Includes Cradle with three different orientations:
- Typing, horizontal reading, and vertical reading
- includes charging and port expension (USB 3.0, Micro-HDMI, 2 built-in speakers)
Black
Slate weighs only 950 grams
3 Year Onsite Warranty
Call us or fill in the form below to check stock or ask our Tablet PC experts any questions that you have.
FAQs
Q. Is the Acer Iconia W700P available now?
A. Yes, there is limited stock available now for immediate delivery. Please contact us to confirm stock availability on 1300 110 101 if prefer.
Q. Is the Acer Iconia W700P right for me?
A. Talk to a Tablet PC expert to first find out! We're more than happy to help you make the right choice. Call to us or contact us via our contact forms to ask.
Q. How do you deliver?
A. Delivery is overnight via Australian Air Express or Allied Express. Deliveries must be signed for, so PO Box deliveries are not available.
Q. How do I install software since the Acer Iconia W700P does not have DVD drive?
A. Here are four different ways.
Purchase an external DVD drive and plug it in via the USB ports.
Download the software rather than installing from a disc. Most software vendors now cater for this.
Copy the contents of the Disc onto a USB hard drive or USB memory stick and install from there.
Take an ISO snapshot of the disc and use a DVD drive emulator such as Alcohol 52% or Daemon Tools to emulate a CD drive.
Q. What is the advantage of Windows 8 Professional vs. the standard Windows 8 OS?
A. If you are a business user and you want to connect your Acer Iconia W700P to a server, then you need Windows 8 Professional which is included.
Here is a comparison of the versions:http://windows.microsoft.com/en-AU/windows/compare
Q. What if I have a Warranty issue?
A. Feel free to call us for support. The warranty on this device is handled by Acer directly, but since we know so much about the Acer Tablet PC's and we use them ourselves, we can usually help you to get the best support outcome.
Click here to see just a few of our customers. Call us on 1300 110 101 to find out more
Free Delivery and Free Technical Support! The Acer Iconia W700P includes free delivery and free technical support for a limited time!
Why buy from Tablet PC? As specialist Tablet PC suppliers we live & breathe Tablet PC's, so we've got the experience and know how to make sure you get the most out of your investment. Included with every Tablet PC purchase is first line support and diagnosis 7 days a week via our TabletCARE™ support line, and access to support staff who use Tablet PCs on a daily basis, and support the largest base of Tablet PC's in Australia!